In Annual Reports dating right back to 1913, the year the Centre was founded, there is clear evidence of the importance placed on keeping mothers and babies healthy through education and the process of role modelling and clear instruction.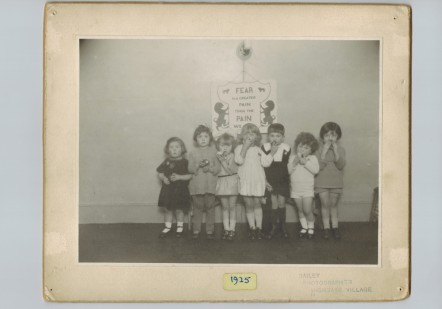 Breastfeeding of babies was encouraged and supported.  Babies who were not thriving were given places alongside their mothers on wards where they would be observed and treated.  Many babies at that time were suffering from malnutrition.  The aim of the ward was to establish natural feeding.  The ability to increase breast milk production in mothers and the obvious change in the health of the baby once on the ward was noted with great pride in an Annual Report from 1920 stating 'They charge us with using drugs and rouge' while it was all really down to healthy feeding and established sleep patterns for both mother and baby.
Already in 1917 cookery classes were established in order to assist mothers find alternative and appetizing substitutes to the bread and potatoes which were hard to come by in the usual quantities.  In 1918 a travelling kitchen was sent by the London County Council to give cookery demonstrations, six of which were held at Manor Gardens.
By the 1920s gas or electric cookers were beginning to replace the coal-fired range. Heinz opened a factory in Harlesden.  The popularity of tinned foods grew and there was a decline in the consumption of fresh vegetables and meat. The preparation of food at home was changing, new foods were being introduced and for the first time, newspapers were publishing recipes and advertising cookery books.
It was in this context that it became apparent that it was not only the needs of tiny babies that needed to be addressed, but also those of toddlers.  In the 16th Annual Report of 1929-30 it is noted that the Centre had started providing sample meals for mothers, showing not only how much, but also what kind of food, should be given to toddlers. The Centre developed an education programme for mothers by holding health talks while mothers were waiting to see doctors. In these, diet, and expenditure were covered, helping mothers to budget and plan meals for a week or two in advance.
With the Second World War came many changes. Rationing was introduced and bread and potatoes formed a large part of every meal.  An adult's weekly allowance was approximately 500g of meat (including offal and sausages), 60g of butter, 60g cooking fat, 125g vitamin-enriched margarine, 90g cheese and one egg.  Tea, sugar, sweets, biscuits and chocolate were also rationed.  Milk was considered very important and an allocation scheme ensured that pregnant women and children received their essential requirement.  Dried milk and eggs were used as supplements to fresh ingredients. The government strongly encouraged the growing of fruit and vegetables resulting in the Dig for Victory Campaign and the arrival of the allotment.  In London, every park, front garden and patch of land was turned into an allotment, many of which still survive today.  A huge government campaign gave much advice on food and eating during the war, backed up and supported at Manor Gardens.
Rationing of food ended in 1954 and controls on food were gradually removed.  Sadly, it seemed as though many people had lost interest in preparing good food or had forgotten how to do it.  Once again, it was the task to educate and demonstrate.   Educational visits and trips to food and cookery centres became common place.  Manor Gardens took Mothers Groups to Bachelors, Birds Eye, Walls and Mac Fisheries.  There were also trips to Dr Barnardos, tea and bread factories.  Hoover, Heinz, British Milk Products and Carnation Milk were invited to give talks at the Centre in 1955.
Increased cultural diversity into London and the Islington area now had to be taken into account when providing cooking and menu ideas.  American style fast food eating arrived in the 1960s leading to changing eating habits. Many new foods had become available through foreign travel and eating habits had to be adapted to include foreign dishes first tasted and enjoyed abroad.  In an Annual Report from 1981-82 there is mention of a Luncheon Club for West Indian Senior Citizens where the list of dishes on the menu reflects the changing foods being offered.
Community Kitchens Project
And today, Community Kitchens Project works with disadvantaged people and community groups in Islington and the surrounding boroughs to promote healthy eating and healthy living, make healthy food more available and also create training and employment opportunities. CKP's focus is on people who for various reasons are at high risk of diet-related health problems.  They include people with special needs, young care leavers, members of black and minority ethnic groups and refugee communities. Services are provided at a range of community settings, from the kitchens here at Manor Gardens, to youth hubs, sheltered housing schemes, housing estates and private venues.
Nowadays Community Kitchens Project uses the Eatwell Plate to reinforce messages on what constitutes a healthy diet. We encourage people to eat plenty of fruit and vegetables whether fresh, frozen or tinned but to be mindful of added salt or sugar especially in tinned goods. Budgeting for healthy food is also an important topic as many people we work with are living on a low income. Big food companies still have a large impact on what we all eat. While the large supermarkets offer a lot of variety at quite competitive prices, they also sell a lot of products which are high in salt, fat and sugar, which is not so good for our health if eaten on a regular basis.  Participants on our courses learn how to make informed food choices at the supermarket by learning to read food labels.
If you were involved in the Manor Gardens Centre and are interested in sharing your story, please get in touch …