Manor Gardens has been lucky enough to have had two royal patrons for most of its 100 year history.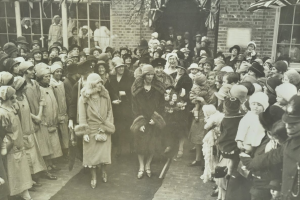 AUDIO Manor Gardens staff and users remember the Queen Mother
Princess Christian, third daughter of Queen Victoria, was the centre's patron from 1916 until her death in 1923.  As Queen Victoria's personal secretary, she was a very capable administrator and was the founding president of the Royal British Nurses Association (precursor of the Royal College of Nursing).
The Queen Mother was patron from 1923 to her death in 2002.  During that time she provided an inspiration for the workers and users of the centre (the 1927/8 Annual Report refers to her as the 'fairy Duchess'), and remained a constant thread in the history of Manor Gardens.
She was a friend of Lady Domini Crossfield, Chair of the centre from 1919-1959. The Queen Mother's god-mother was Mrs Arthur James, who was an active member of the Wards Committee of the centre, and who probably encouraged the Queen Mother to be involved.
As Andrew Turton notes in his book on the centre, the royal families' patronage of charities enabled them to 'keep up with the times, to get closer to the people, remain popular and survive social change.'  However, it seems that the Queen Mother had more than a passing interest in Manor Gardens.  Of all the charities she remained patron of from 1923 right up until her death, only Manor Gardens did not have a national or international remit.  Indeed, she is known to have read and  appreciated Florence Keen's motto from Blake's Jerusalem, which were quoted in the Queen Mother's first official biography:
Labour well the minute particulars, attend to the little ones,
And those who are in misery cannot remain so long.
She visited the centre 6 times: in 1926, in 1928 (to open the extension of the buildings), when she named the current pre-school the 'Princess Elizabeth Hall' after her two-year old daughter.  To mark this occasion, she also gave to the centre the framed photograph displayed here of herself and Elizabeth, now the Queen.
She visited again in 1948, with her husband George VI then on the throne; again in 1965; again in 1963 to celebrate our 60th anniversary; and finally (with a little encouragement from the redoubtable Althea Davis) on our 75th anniversary in 1988. Unsurprisingly, the visits were greeted with excitement and required a great deal of precision planning.  Representatives from the centre, took part in the march-past for the Queen Mother's 100th birthday celebration at Horseguards Parade, and completed a book on condolences on her death in 2002.  Manor Gardens currently does not have a patron – it will be very difficult to find someone to follow in her footsteps.