The nurses, midwives, doctors and dentists that have worked at Manor Gardens were a key part of the centre until their clinics finally moved out just over a decade ago.  Today, of the clinical staff, only psychologists remain in the form of the Women's Therapy Centre and ICOPE, although these are tenant organisations rather than being part of the Manor Gardens organisation itself.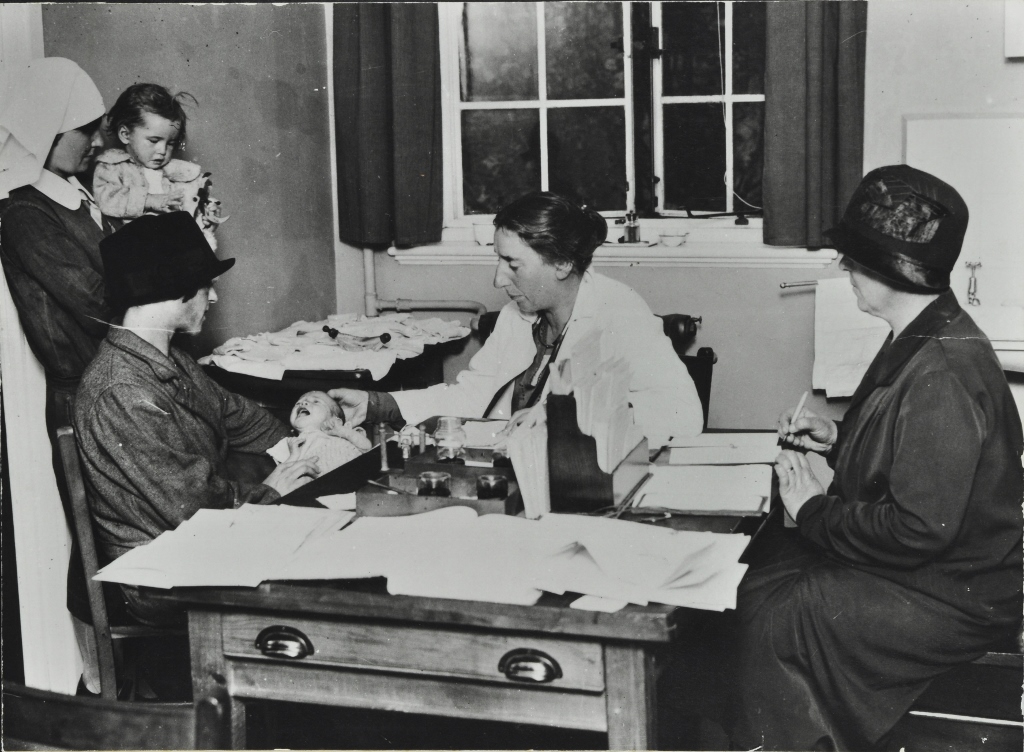 Historically, Manor Gardens attracted doctors who were prepared to work in addition to their private practices, often based in Highgate.  Dr Vance Knox and Dr Jessie Maxwell (nee Campbell) were the first doctors to work for the centre.   In the Annual General Meeting in 1955, Dr Maxwell remembers the early days:
I came to the centre at the beginning of 1922. The war was over and the country was in the throes of the post-war depression and there was much poverty and unemployment…

Rashes, infections and otherwise were very prevalent. It was the "otherwise" sort that was the problem. The increase of comfort and the consequent well-being of the under-fives is due to the wonderful work of the Heath Visitors and School Nurses. Dirty heads are never seen in the Welfare Centre today.  These were frequent 40 years ago and it was not the fault of the mothers in many cases.  The older children brought the creatures into the home, and the scratching that followed produced endless septic sores and often painful ailments.
Manor Gardens has often been blessed by staff remaining at the centre for several decades.  Both Maxwell and Knox remained until the early 1940's, replaced by a new guard which included Dr Eve Attkins, and latterly Dr Joan Warwick.  Attkins was one of the founding members of the Royal College of GP's, and becoming a well know public figure when she sadly died in 1963 in her early 50's.  An aviator, as well as a champion golfer, she was clearly a woman of many parts.
While nursing staff and midwives were also key to the centre, and in many cases much loved, the dentists it seems were remembered as the villains of the piece.  Several of our interviewees remember the smell and sight of visiting the dentist, and have yet to shake off the bad memories!  Some things never change.