In 1913 the centre initially catered for mothers and their children, who were unlikely to afford treatment elsewhere.  The spectre of death was very real.  As Dr Jessie Maxwell recalled, the consultation began not with: "How many children have you got ?" but with: "How many children have you lost? Well, mother, you don't want to lose this one, do you? Now listen to me…"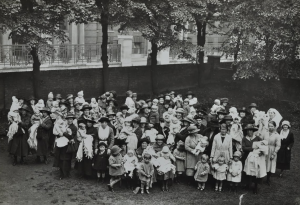 Babies were initially weighed and various kinds of advice and support was given.  Breast feeding was encouraged, and home visits might be arranged to assess the family circumstances and give more detailed advice.   Staff suggested clothes for the babies to wear and materials were sold at cost.  Mothers were shown how to make cots out of banana crates, and lectures were given on a range of subjects, with topics chosen by the mothers.   Soon after the centre was founded, wards were instituted and mothers were encouraged to stay on the ward to watch their babies being treated and cared for so that they could learn how to do this.
As the aims of the centre have changed, so too – of course – has the experience of its users.  Paulette Romeo has a long-standing connection with Manor Gardens, and we have recently interviewed her for this exhibition.  Her experience illustrates how some families have had a long-standing connection with us.  Her mother, recently arrived from the Caribbean, worked in the laundry at the centre.  She then attended the dental clinic as a child, subsequently sent her own children to the pre-school and working in social care she has also refered people to the Women's Therapy Centre, which is based at Manor Gardens.
Cllr Jean-Roger Kaseki, is another recent user who has attended the centre.  Shortly after arriving in this country he suffered a stroke, and attended the Stroke Club.  Partly due to the attention he received, he made a good recovery and subsequently was elected as a local councillor for Tollington Ward.
So, services have changed greatly over the last 100 years, as have the demographic groups that attend the centre.  And the centre has responded to these changes.  In 2000, following renewed waves of immigration from East Africa, the Middle East and Eastern Europe the centre instituted its Health Advocacy Service to help new arrivals to access welfare services.
Attitudes to children have changed significantly too during the time of Manor Gardens' existence.  On the one hand our interviewees have suggested that children were treated in a much more strict manner, but on the other former users allude to the greater freedom that children had, for example in playing in a wider space in the preschool.