Our changing society since 1948:
The Queen Mum visits Manor Gardens in 1948, LMA/4314/07/022,0007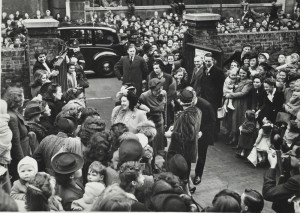 HEALTHY EATING SINCE 1948
Click here to see under healthy eating section
SMOG AND WASHING
Listen to Frederick North and Johnson Green talking about smog in Britain after the war.  Elicit from the class what effect they think this had on everyday life.
In 1952, during the 'Great Smog', 4000 people died in its immediate aftermath, and another 8000 in subsequent months.
Listen to Johnson Green's memories of taking bath's outside the home, or in a zinc bath inside.  What else does your class think was different in everyday life then? (eg, telephones, many fewer cars, playing in the street.)
HOW THE WIDER COMMUNITY HAS CHANGED SINCE 1948
Since 1948 the ethnic diversity of Britain has changed significantly, and Manor Gardens has witnessed these changes at close hand.  We have worked with a range of ethnic groups since the 1948, and continue to do so.
We have also run a number of projects with other groups, such as disabled and gay groups.  Compare the photographs below – how do they suggest our society has changed since 1948?
[photomosaic ids="1289,1288,1285,1278,1263,1262,1260,1259,1252,1251,1250,1249,1245,1237,1235″]
TOYS SINCE 1948
Date order the photos in the gallery:
[photomosaic ids="1371,1360,1370,1361,1369,1362,1368,1363,1367,1364,1366,1365″]